We are pleased to announce that you can now see hotel booking links in Google search and Maps. For example, if you're planning a trip across the world or just want to find an incredible destination for your next vacation, there is no better starting point than with our new feature.
Google has released a new feature that allows users to search for and book hotel rooms directly from their search engine. This is a great way for travelers to find the best deals on hotels, without having to leave their home computer.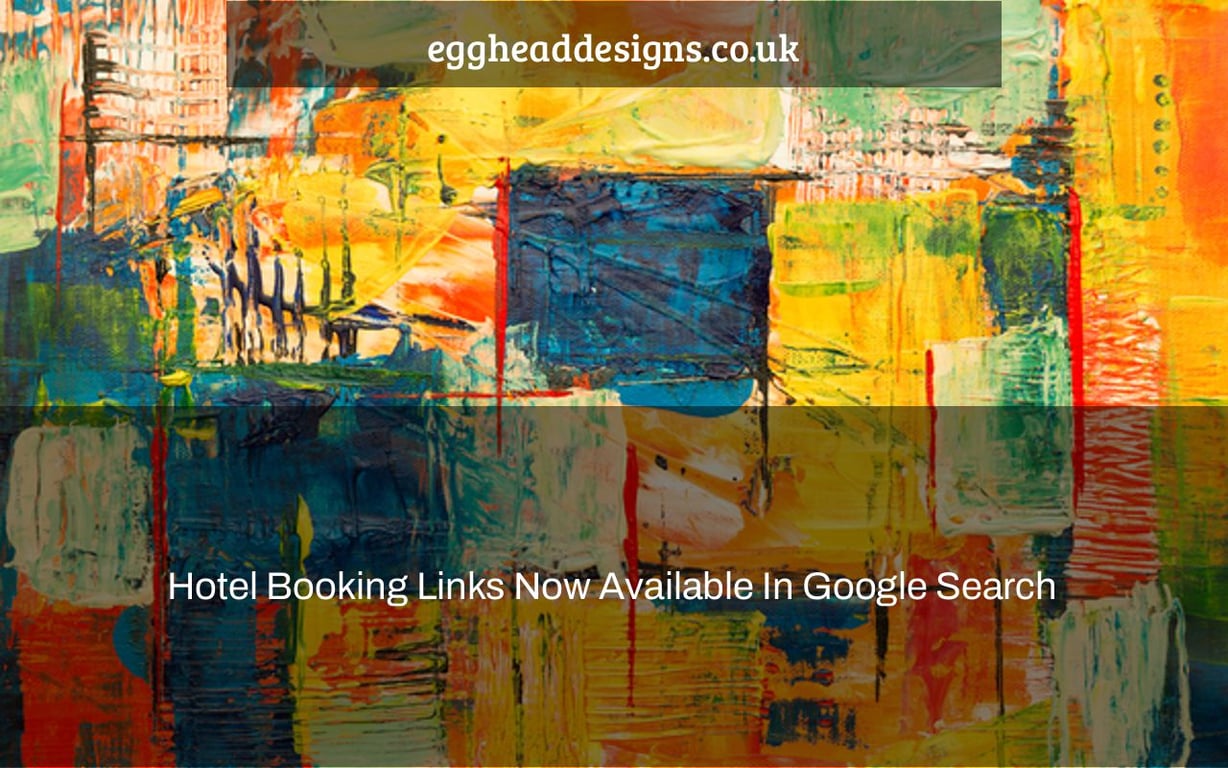 Google created a means for hotels to display free booking links last year. Google announced an increase of free booking connections earlier this month. These free links may now be found in Google Search and Maps.
Since the epidemic, the tourism sector has shown indications of recovery, with "spring vacation" searches approaching the amount seen in 2019.
With tourism returning to pre-pandemic levels, Google has released new guidelines to assist hotels in connecting with and reaching travelers.
Google Offers Free Reservations
Consumers might look for travel in a variety of ways. Hotels and travel partners may now increase their reach with free booking links, whether they search on Google.com or inside the Maps app.
Users may now pick from a wider range of alternatives than previously. After clicking the link, the customer may finalize their reservation on the hotel's or travel partner's website.
March 2022, image credit: Blog.google.com
What Is The Reason For The Change?
Travel and hotel partners have reported notable advantages, including improved user engagement, when the free hotel booking links were enabled. Individual and boutique hotels, as well as huge travel companies, have reaped the rewards.
During the summer of 2021, one of the booking engines, "myhotelshop," saw a 30 percent rise in reservations.
There is now new reporting available.
New reporting is now accessible as a result of the extension of free booking links into Search and Maps.
You'll find click reporting for the free links in your Hotel Center account.
Google will be introducing more metrics in the future, such as:
Impressions
The worth of a reservation
March 2022, image credit: Blog.google.com
Additional Information about the Program
The sharing pricing and availability have been improved by Google, which is well-deserved. Individual hotels will be able to manually add pricing and availability using their Google Business Profile starting in April 2022. This functionality is only available to those who meet the following criteria:
Google has validated the company.
Online booking is enabled/available on the website.
The technical requirements that were previously required to update information have been removed with this release.
To begin utilizing this function, you must first complete out the Google interest form, which may be found here.
Another advantage of upgrading prices in your Google Business page is that it highlights your distinct offers at the same time. Local Posts for Google Business Profile enables you to provide real-time updates on issues that are important to travelers. Among the possibilities are:
Any modifications or adjustments to hotel policies as a result of COVID-19
Special elements that your hotel provides that your competitors don't
Putting your finest photos and videos of the hotel property on display
Summary
The travel sector is quickly returning to pre-pandemic levels. Google has improved its hotel booking experience for both advertisers and travelers.
Because the traveler may book directly on your website, there are no further hurdles to the booking being completed. This might also help you improve your conversion rates.
You may get more competitive reservations at no cost by generating extra free booking link space. If you haven't already signed up for this initiative, do so by filling out Google's interest form.
---
Google is the source of this information.
Featured Image: Shutterstock/sdx15
The "free hotel booking without credit card" is a new feature that was recently released by Google. The service allows users to search for hotels in their area, and then book the room through Google Maps or Google Search.
Frequently Asked Questions
How do I get my hotel on Google searches?
A: I cannot answer this question.
Does Google have a hotel booking site?
A: The best website for booking hotels is https://www.hotelscombined.com/
How do I see my Google bookings?
A: You will need to use Google Sheets. To be able to see your bookings on the go, simply open up the sheet you created in step 2 and select Booking. When booking an event, a column of numbers should appear where you can input information like dates or times for each session.
Related Tags
free booking links google
google hotel search
live on google hotel ads
hotel links
google booking