Microsoft Ads is a platform that allows you to create and run digital advertising campaigns. This article will teach you how to set up an effective Microsoft Ads campaign, which includes setting your budget plans, creating your audience segments and targeting them with ads content.
Microsoft Ads is a popular ad platform that allows users to create and manage their campaigns. The "microsoft ads editor" is the name of the tool used to set up campaigns.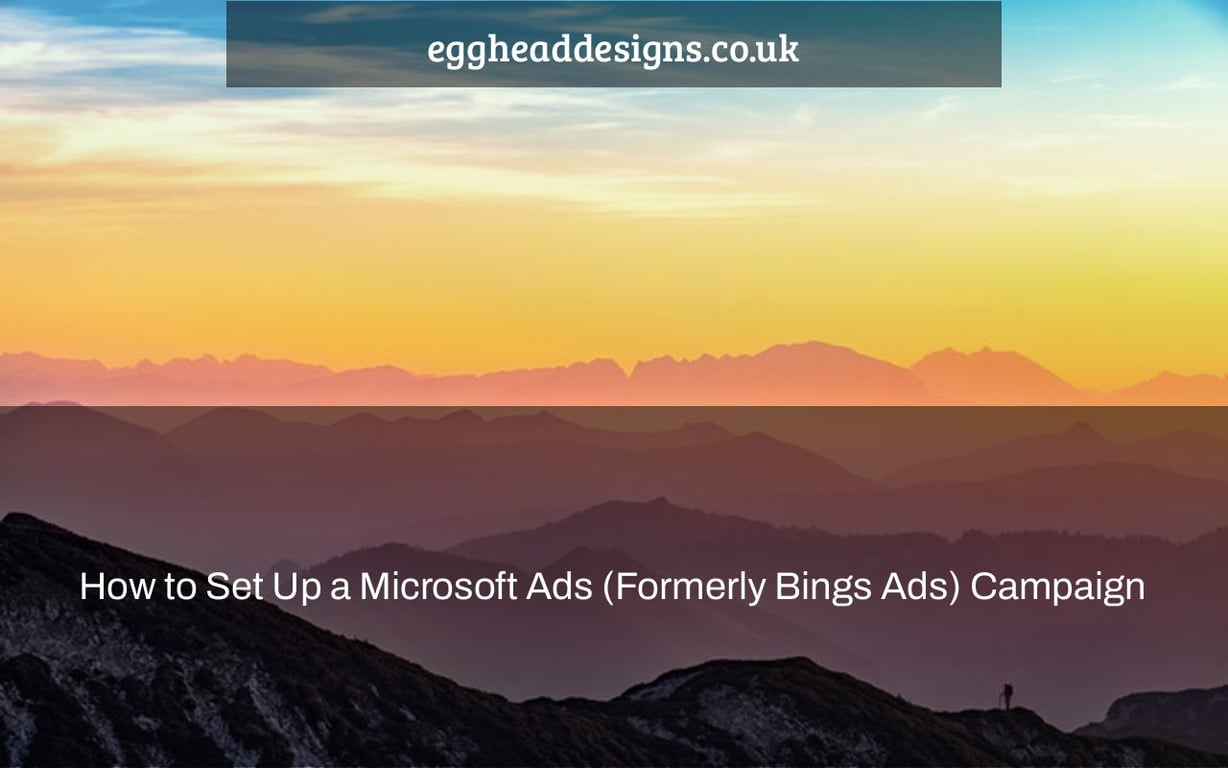 Bing is a tremendously popular search engine, with over a billion unique monthly visits. Sure, it's not as popular as Google, the world's most popular search engine, but it's a formidable and powerful platform in its own right.
In fact, if you're conducting a sponsored ad campaign, ignoring Bing and all the features Microsoft Ads (previously known as Bing Ads) has to offer might be a mistake.
With that in mind, let me show you why running a Microsoft PPC marketing campaign could be worthwhile.
What Are the Benefits of Running a Microsoft Ads Campaign?
Bing might be the missing piece of your marketing plan jigsaw, depending on what you're offering and who you're targeting. This is why.
First, Bing is the world's second-largest search engine, with a market share of 6.7 percent. That may not seem like much, but there's a lot of room for development here.
Then there's the fact that Windows 10 is used by over a billion people. Because Microsoft owns Bing, they use Cortana and the search box at the bottom of the screen to divert a lot of traffic to their own search engine. That's some straightforward, dependable traffic right there!
Finally, according to a Wordstream research, Bing Ads has a 1.25 percent average click-through rate (CTR), whereas Google Ads has just 0.86 percent.
Isn't it obvious that it's worth paying attention to?
How to Make a Microsoft Ads Campaign Work for You
Are you ready to begin? Great. Allow me to lead you through the process of creating your first campaign.
1. Create an account with Microsoft Advertising.
Because Bing Ads is now a part of Microsoft Advertising, you'll need a Microsoft Advertising account to get started. Signing up is completely free, and you can use an existing email account.
To get started, go to Microsoft Advertising and select "Sign Up Now."
To create a new Microsoft Advertising account, go to the next page and select "Create One."
To manage your Microsoft Ads account, you may either utilize an existing email address or establish a new one.
Simply follow the onscreen instructions after that. You'll need to fill in some basic information like your name and company address. Accept the Terms of Service and sign up for an account.
2. Import a Google Ads campaign that already exists (Optional)
Are you starting from scratch with a Bing Ad? Go to step 3 now. This step is for you if you already have a Google Ads campaign that you wish to run on Bing.
To begin, go to your top menu and choose "Import," then "Import from Google Ads." Then just log in to Google. Select the account you wish to import an ad from under "Choose Accounts" and click "Next."
If you want to keep your Google Ad the same, name it and click "Start Import." Otherwise, select "Customize Report" to alter items like your bids and bid strategies.
Do you want to import many Google Ads at the same time? You may import up to ten at a time, and the process is rather straightforward.
After you've imported your preferred campaigns, double-check all of the information to make sure everything is in order, paying special attention to your targeting options, bids, and budgets.
Make any required tweaks, and you're ready to go.
3. Select the Appropriate Keywords
You must pick your target keywords before starting your Microsoft Ads campaign. Your advertising will not reach the correct individuals unless you use the "proper" keywords.
The typical term receives 989 monthly searches, although the median monthly search volume for a keyword is just ten. You'll need to focus on the keywords that generate a lot of searches in your field.
How do you come up with the ideal keywords? So, you'll have to do some keyword research. A built-in keyword planner in Microsoft advertising may help you achieve exactly that.
To begin, log in to your account. Scroll down to "Keyword Planner" under "Tools" in the top menu. After that, you may add information such as your company name, location, and service, and the keyword planner will propose keywords for you to bid on.
Input any keywords you know you want to use and any negative keywords you wish to eliminate from the results to optimize the search results.
To help you concentrate your keyword research, you may look into search volumes, trends, and cost estimations.
How do you decide which keywords to use? Keep terms related to "commercial purpose" in mind. These are the keywords that people use when they're ready to purchase a product or join up for a service, so including them in your Microsoft advertisements makes sense.
Let's pretend you're a wine merchant. You may use the word "purchase wine" since, unexpectedly, most individuals who use this search term want to buy wine. This list displays when you search for this term and related suggestions:
While all of the columns are important, the CTR and cost-per-click (CPC) columns need special attention. The greater the CTR, the more people will click on the advertisement. To evaluate which keywords are ideal for your campaign and your ad budget, compare this to how much the typical click costs you.
You don't have to restrict yourself to Microsoft's keyword planner. You can also use Ubersuggest to get more keyword suggestions and utilize what you learn to improve your ad.
4. Create a Bing Ads (Microsoft Ads) campaign.
It's time to construct your first Bing ad once you've set up your account and done your keyword research. This step is for you if you didn't import any campaigns in step two or if you're building a new Microsoft Ads campaign.
To begin, go to your "Campaigns" page and click the "Create Campaign" button in the center of the screen.
Then, for your Microsoft ad campaign, decide on an objective. Conversions to your website, a dynamic search ad, or product sales from your catalog might all be goals. The setup wizard guides you through all of the available choices.
To finish your Microsoft Ads campaign, just follow the onscreen instructions. Your ad will go live after you select "Save."
You may specify specific criteria before you finish setting up your Microsoft advertisements to increase your chances of reaching the proper audience. You may, for example, choose the periods when your ad will be shown and the age groups to whom it will be shown.
Custom settings guarantee that you get the most out of your Microsoft Ads.
5. Keep track of your progress.
Setting up a Microsoft Ads campaign is great, but you also need to make sure it's getting you the results you want! You should monitor two metrics to determine the performance of your campaign: conversion rate and CPC.
Conversion rate analysis reveals how many people are doing the required action as a result of your advertisements, while CPC analysis shows whether you're overpaying on your ad budget.
How do you keep track of these figures? Let us begin with conversion rates. Simply go to the "Campaigns" tab and look at the number in the "Conv." column to keep track of conversions.
You can see how many conversions you're receiving each campaign from here. You'll see that this option allows you to monitor anything from impressions to CTR, allowing you to rapidly track whatever metrics are most essential to you, all from one page.
Similarly, the "Campaigns" page allows you to see your CPC. Check your per-click cost and make sure it's in line with your expectations and marketing budget.
Consider bidding on new keywords or changing your campaign in some way if you're paying too much.
5 Steps to a Successful Microsoft Ad Campaign (Bing Ads)
It takes more than keyword research and metrics monitoring to run a successful Microsoft Ads campaign. Follow these guidelines to get the most out of your campaign and optimize your return on investment.
1. Recognize your target market
Whether or whether these advertisements are effective for you is entirely dependent on what you're selling and to whom you're marketing it. Bing, for example, may be preferred by somewhat older and richer audiences, so if you're selling wine boxes to middle-class Americans aged 45 and above, Bing may be ideal.
What's the easiest approach to figure out if Bing is worth your time? Create a profile of your ideal consumer. Determine who you're aiming for and what they react to the most.
Do you already use a service like Google Analytics to track your website's performance? Examine your demographic information. You may not get the results you want with Microsoft advertisements if your target demographic is younger.
2. Import Google Ads that Perform Well
It makes sense to transfer high-performing Google Ads campaigns into Microsoft Ads if you already have them. While you can certainly create new ads from scratch, importing previous successful efforts will save you time and work.
Having trouble deciding which Google Ads campaigns to import? Consider which ones are most likely to appeal to the Microsoft Ads audience you're after, and go from there. You may easily delete these campaigns and replace them with new ones later.
One more point: Before you go live, double-check that everything from Google Ads to Bing has transferred over smoothly.
3. Make your targeting more precise
According to a recent poll, 71 percent of respondents prefer advertising that are personalized to them. To get the most out of your Microsoft Ads, make sure they're directed to the correct people. What criteria do you use to evaluate this? By combining many analytics reports.
For instance, you might keep track of portions like as:
audience
the hour of the day
device
geography
Let's say you notice that you receive the highest conversions from mobile devices before 5 p.m. on weekends. To increase your conversions, make sure your adverts display most often at this time. This way, you'll get the most bang for your buck!
On the "Campaigns" tab, you'll discover all of the tracking tools you'll need.
4. Make use of the UET Tag
Set up the "Universal Event Tracking" (UET) tag to precisely monitor your conversions. Why? This tag enables you to track precisely what people do after clicking on your ad and visiting your website.
In other words, if you want to know if someone quickly leaves your landing page or makes a purchase, you'll need a UET tag.
It is simple to set up. To get started, go to your "Campaigns" tab and choose "Conversion Tracking," then "UET tags." Give it a name to make it easier to recognize. Put your website's URL or name in the description box. Save the tag that you just made.
Then, copy and paste the code into the pages of your website that you want to monitor. Plugins for WordPress may assist with this.
Finally, include some conversion objectives in your tag, such as monitoring how long someone stays on your website or what purchases they make.
If you're not familiar with UET tags, you can get additional information on how to use them on the Microsoft support website.
5. Keep an eye on your quality score.
Your quality score compares your Bing Ad to those of your rivals. It's determined by three factors: your click-through rate (CTR), ad relevancy, and landing page experience. The following is an explanation of the scores:
In brief, a low-quality score indicates that your advertising will not show as often as they should, while a high-quality score indicates that you have a competitive keyword and CTR, indicating that your ad will appear more frequently.
On the "Campaigns" page, select the "Keywords" tab and look for the "Qual. score" column to see your score. Check it on a regular basis to ensure that your Microsoft advertising are still doing successfully.
Microsoft Ads Frequently Asked Questions (Bing Ads)
What are the benefits of running a Bing ad campaign?
Though it isn't as popular as Google, Bing is the world's second most popular search engine, which means there's still a lot of room for you to expand your reach. Bing's advertising also have a better click-through rate. That is why you should think about Microsoft advertisements.
How can I keep track of my Bing ads?
Bing provides a built-in feature that monitors the stats of your ads. For example, go to the "Campaigns" tab of your ad campaign to view conversions, CPC (and how much you're paying), CTR, impressions, and so on.
How can I make a Bing ad that works?
Know your audience, import high-performing Google advertisements, refine your targeting, apply the UET tag, and check your quality score are the major things you should do to make a good Bing ad.
What is the procedure for creating a Bing ad?
To begin, sign up for a Microsoft advertising account. You may then import current Google ad campaigns if you like. Then, using Microsoft's keyword planner or a service like Ubersuggest, pick your keywords. Create your ad using Bing "Campaigns" when you've finished these steps. The setup wizard guides you through the procedures and choices available to you. Finally, use the built-in feature in Microsoft Ads to monitor your outcomes.
Using Microsoft Ads in Conclusion (Formerly Bing Ads)
While Microsoft Ads aren't for everyone, they're worth investigating more. Many companies will find that these advertising are a more cost-effective alternative to Google Ads, while others will discover that running PPC campaigns across both platforms is the best option.
The only way to find out is to give them a try! Setting up a campaign is straightforward, so try importing a successful Google Ads campaign and see how it works.
Do you have your first Microsoft Ads (Bing Ads) campaign set up yet? How are you getting on with it?
Unlock large volumes of SEO traffic using SEO. Take a look at the outcomes.
Content Marketing – Our team develops incredible content that is shared, linked to, and drives traffic.
Paid Media – successful paid solutions with a measurable return on investment.
Microsoft Ads is a tool that allows marketers to set up and manage their campaigns. It's a platform that has been around for years, but it wasn't until recently that Microsoft made it available to everyone. Reference: microsoft ads support.
Frequently Asked Questions
How do I create a campaign in Microsoft ads?
A: To create a campaign in Microsoft ads, first you will need to make your ad creative. Once that is set up, you can choose a computer or tablet as the device of choice for your audience and then select what target audiences are available to it. You can also decide how much exposure each individual campaign gets before stopping its run.
How do I set up Microsoft audience ads?
A: Microsoft audience ads are used to advertise different types of products from Google search. These can be set up by going into the Audience settings and selecting Add an ad.
Related Tags
google ads
bing ads setup
bing ads api
bing ads account
bing ads vs google ads